Gosh, oh gosh, my life is moving at lightning speed and I am running, running,  like so many of you are, to catch all the balls in the air! Being an interior designer is fabulous, exhausting, hard work, so rewarding, as is being a mom to a teenager and a second grader, and a regular not-as-regular-as -I'd -like blogger! I miss blogging so here I go, trying to write smaller pieces to share with you all!
This week I ran after my submission date to send out my monthly piece for Houzz.com about Art Gifts for the holidays. It should come out some time later this week. As a rule of thumb, you can read my Houzz articles in my ideabooks section: the published ones are the ones that say "Guest Picks…..". Do take a look at it when it publishes, as you may find just the right gift idea for someone you love! Researching art for that piece was thrilling and I wanted to share some of that excitement with you here. I gathered a few photos of artists I truly enjoyed fell head over heels for while preparing this post. And…you can buy these. Yep.
Kathryn Markel Fine Arts Gallery  brings us artist  Deborah Zlotsky
It happened, but not to you, 2012- Oil on canvas- 60 X 48 inches. A masterpiece.
"Top Cat" Original hand-printed etching by Kay Mc Donagh – Image size 8cm x 9.5cm, a darling darling piece. All her art is fabulous by the way!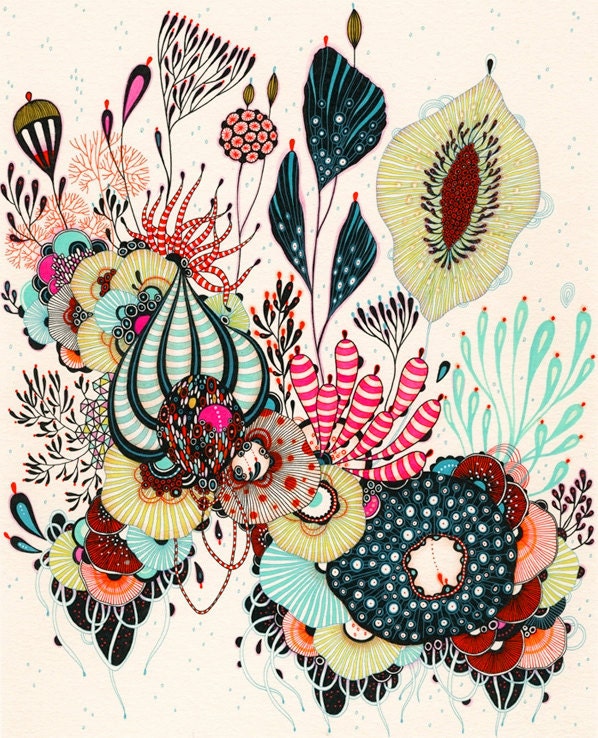 "Cheer" by Yellena James done with pens and ink, 8 x 10. Delicately colored water or land plants are bundled together in complex and lovely patterns.
I'd love to hear if you like any of these
A bientôt!